This is a compensated campaign in collaboration with
Pine
-
Sol
and Latina Bloggers Connect. However all opinions are my own.
Today's post is about fighting adversity and fighting through those rough patches that life sure loves to throw our way. I was just talking to a friend about this a few days ago. We were talking about those moments in life, when you just want to give up. A year ago I was in a completely different boat. I wasn't earning enough to be able to call this a job and there were no jobs in my area. What happened was I got so unmotivated, that I didn't log in everyday like I do now. I just slowly let it go. But when you work for yourself, you need to be a salesman, a cheerleader and an assistant, all in one. If you don't show up to look for work, there ain't gonna be no work.
After a crummy-ish holiday season where I wasn't able to spend as much as I am used to spending on my kids, I really began to give up. By February I hadn't posted on my blog for almost a month and had actually started applying for jobs. Ironically things didn't turn around until I was actually hired by someone. When I heard my future boss tell me that I would be earning minimum wage, a measly 8 dollars an hour and that I would only be working about 20 hours per week, I finally snapped into consciousness. I haven't earned minimum wage since my first job at Taco Bell when I was a teenager. Don't get wrong, I am not dissing minimum wage, especially in this economy. But for me it would never work. I have plans for my life, plans to get my kids out of this city and to a better place. I have plans to get back to the lifestyle I always had before I got sick. I knew 8 dollars an hour would not be enough to achieve anything, much less all those plans for the future.
I still remember the day that I was sitting in the car with Adrian, telling him that from that minute on I would not rest until I was earning as much as I used to at my previous job. I told him I would log in every single day and work my fingers to the bone, that I would hustle and that I would not give up. I would also change the way I was working. No more reviews of a bunch of crap I didn't need. No more letting businesses send me items worth $5 for 2 or 3 hours of my time. No more little jobs that paid me less than what I deserved. From that day on my worth would be going up, the value of this great online space that I built and worked on for over 4 years now was also going up and it would be treated as so.
I'm not saying that it has been easy, it's taken a hell of a lot of work. But it's also taken something that a lot of times we forget, positivity. And I am not where I need to be yet, but I am so close to it that I can actually see it. All the years and hard work that have been invested into my social media accounts and my blog are paying off. I can now call this a career, because it's not a hobby or a simple job. This is the groundwork for what one day will be.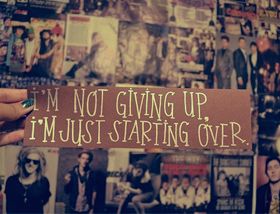 The makers of Pine-Sol® Products want us to remember that no matter what happens, we have to #RiseAboveIt. It's okay to make mistakes or even start over, as long you don't give up.
Pine-Sol®

has teamed up with actress and activist Rosie Perez to launch the
'When Life Gets Tough, Women Rise Above It'
campaign. As part of the campaign,

Pine

-

Sol

awarded a $25,000 donation to Women Empowered, a nonprofit based in Los Angeles that connects, educates and supports women of all ages and backgrounds, inspiring them to give back to their communities.
Once a week for 12 weeks,

Pine

-

Sol

will award one lucky winner small tokens of appreciation. (Flower bouquet +

Pine

Sol

coupons)

ARV: $150

Three first prize winners will receive complimentary house cleaning services for a year

ARV: $2,400

One grand prize winner will be awarded an all-inclusive trip to enjoy a peaceful spa experience at a deluxe hotel.

ARV: $5,000
Wakefield Research conducted a survey among women across the U.S. on behalf of Pine-Sol®
Brand Cleaners. According to the results, 86% of women ages 35 plus, say their biggest female
role model is someone they know personally, not a celebrity or political figure. Additionally,
women see the best female role models in their family (60%) and their communities (24%),
according to a Pine-Sol survey and 65% feel they are currently a role model to someone in their
life.
These findings are definitely true. I know my role models have always been women that I know, who I see work hard for what they have and what they believe in. I would also like to hope that I can be one of my daughter's role models. I hope that I have shown them that in this wonderful game of life, there is no giving up. Las Mujeres No Se Rinden!
NO PURCHASE NECESSARY. Open to legal residents of the 50 United States & D.C. 18 years and older. Ends

1/31/14 at 11:59 a.m. PT

. To enter and for
Official Rules
, including odds, and prize descriptions, visit
www.womenriseaboveit.com
. Void where prohibited.