This is a sponsored post written by me on behalf of My Dolphin Show.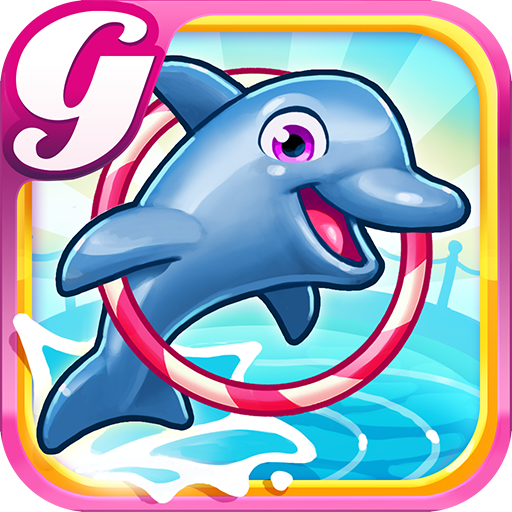 Sammy is as big a technology geek as her dad and I. She has had her Kindle since last year and because we work in Los Angeles at least once a week, it has become pretty much her best friend during those long days in the car. Yesterday was the perfect example, she was sick and stayed home from school but because we had to work, she had to go with us. That meant a long day in the car waiting for her dad to see clients and make some sales. It was the perfect time to download My Dolphin Show and see what all the hoopla is all about.
My Dolphin Show is a free app that you can download on iTunes, Google Play and on the Amazon app store. What impressed me immediately when we went to download the app were the reviews. There are 1,140 reviews on Amazon alone and 1,042 of them are 5 stars. Reviews are very important to me anytime that we download a new app for Sammy, and these reviews could be no better. Another really great aspect of My Dolphin Show is that there are no pesky ads all over the game. A lot of free games have ads and they really take away from the experience. Those ads are also worrisome because you spend your time worrying about your child buying something they are not supposed to. No ads means Sam was able to play without me having to keep checking the screen and she was able to enjoy the game without interruptions or annoying ads blocking the game.
We downloaded the app as we were having breakfast and Sammy played with it throughout the day. I was pretty sure she would get bored with it after a few games, which she tends to do with a lot of the games we usually get her. But fun with beautiful dolphins and fish, which she was actually able to dress up, really kept her hooked. Not to mention how pretty this app is and what great graphics it has! I can't believe it's free. Believe me, I pay a lot of money for some of her apps and this is much better than most of the paid ones. And seriously how often do you see a dolphin wearing a princess dress and crown doing a water show? I had no idea what I was doing here but I wanted to show you just how pretty these graphics are.
My Dolphin Show is a fun, FREE app to play with your kids that gives you a great chance for some quality bonding time.
My Dolphin Show is kid-friendly and safe to play with no in-app advertising.

You can dress up your dolphin in lots of cute costumes or upgrade to other creatures like sharks, mermaids, or polar bears!

The game has been a hit with kids, with over 2 million installs already!

This app is recommended for kids aged 6-8 but I really think all ages will enjoy it.
Finding quality apps that are kid friendly isn't always easy even with as many of them as there are on the market. Finding them free, is almost impossible. Check out My Dolphin Show for yourself and see how much fun it will be for your kiddos. Sammy loved it and she hasn't even been able to upgrade to a mermaid, when she does she probably won't be able to put the game down!
My Dolphin Show is a fun, FREE app in which you get to swim, play and perform tricks like a real dolphin! Over time, your dolphin will complete different tricks that increase in difficulty, allowing you to gain more points as the game continues. As a kid-friendly app, you can play along with your children and share quality bonding time in an entertaining and safe way.
Download the app now from the Apple App Store, Google Play and Amazon using the following links:

This is a sponsored post written by me on behalf of My Dolphin Show.