This post is part of a sponsored campaign by Nestlé® Pure Life®. I have been compensated for my time. All opinions are my own.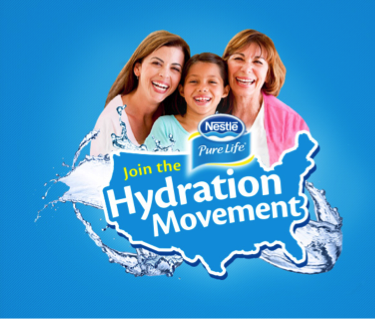 Moms really are the best, they have a way of ingraining so many things into you. Sometimes you don't even realize how much of it you are absorbing, until one day you hear yourself repeat the same thing to your kids.
When it came to our health my mom was always adamant that we would eat healthy food versus junk food. We didn't have the weekly trips to fast food restaurants, or bottles of soda in our house, when I was little. We had milk, water (mom always understood the importance of hydration) and the occasional bottle of juice. We were not raised to think that soda was a drink that could be had daily, instead we only had soda on the days that she made carne asada or certain Mexican dishes. Basically, soda was a treat that could be had only once in a while.
Did you know that 60% of an adult body is water? Keep it well hydrated by drinking enough water!
She also made sure that we had real food, and by this I mean we had a lot of beans, chicken and veggies. She would work so hard on incorporation vegetables into her traditional dishes, always making sure to add everyone's favorite to the mix. Of course we thought we were being deprived. We would see other kids who got to eat burgers and pizza, and we would hate the fact that our mom did not let us eat like that. We were a pretty ungrateful bunch.
They funny thing? None of us were overweight when we were young or even in high school. We didn't go through those awkward chubby years. We were all in great shape from eating good food and playing out all day. There was no obesity, no boredom and no health issues. So even though we though mom was doing a crummy job, she was doing a great job.
Mom also taught us to love ourselves and take care of our bodies so we could grow up healthy and strong. Now that she is older, I try to encourage her the same way she always did with me. We try to make sure she has a balanced diet and that she gets plenty of exercise daily. Now it is my turn to make sure that my mom maintains a healthy lifestyle, the way she did with us when we were young.
Pure wisdom should be shared with others! Visit the
Nestlé® Pure Life® Facebook
wall and leave a comment with the hashtag #momswisdom sharing what your mother told you and how it has made you a better person.
Which special woman in your life inspired you and what
did she teach you? Share her wisdom here.