This is a sponsored post written by me on behalf of Rite Aid Tugaboos diapers.
We had never purchased Rite Aid brand Tugaboos before. It was nice to find out about them though, because you never know when you might need an alternate to your preferred brand. It could be that your store has run out of the brand or most tipical, the size you need, and you might need to find an affordable option while you wait for them to restock. If that is the case, Tugaboos might be the right diaper for you. Another great reason to buy Tugaboos, is the price. You get 52 diapers for under fourteen dollars, and that is a big bang for your buck.
Rite Aid Tugaboos diapers have recently been improved for added leakage protection and faster absorption.
Key features of Tugaboos diapers include:
Soft stretchable waist & side panels

Excellent leakage protection

Hypoallergenic inner liner

Cottony soft feel
Just because you want to buy an affordable diaper, doesn't mean you want to buy a cheap brand. These improved Tugaboos are now made to be a better value as well as a good deal.
Right now RiteAid is having a Vera Bradley sweepstakes. Twenty five lucky winners will be selected to win a gorgeous Vera Bradly diaper bag. You can get an entry into the sweepstakes, every time you make a Tugaboos purchase. Find out more about the sweepstakes here.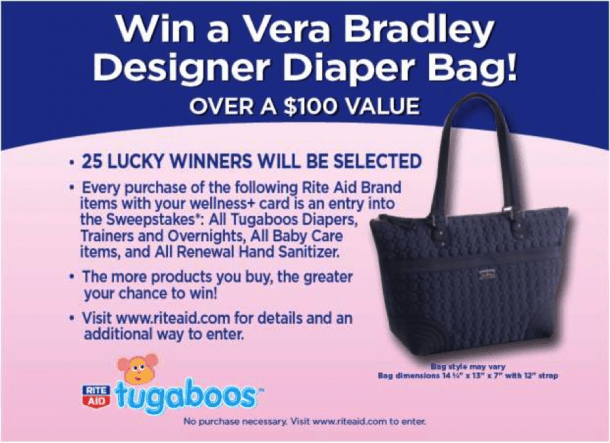 For the month of June, all Tugaboos purchases will earn an entry into the Tugaboos and Vera Bradley Sweepstakes! With every in-store purchase of qualifying Tugaboos products using your wellness+ card at any Rite Aid store between June 1-30, 2013, you will receive an entry for a chance to win one of (25) Vera Bradley Designer Diaper Bags filled with select Tugaboos products.To enter without making a purchase, complete this entry form now: https://riteaidtugaboos.dja.com.

This is a sponsored post written by me on behalf of Rite Aid Tugaboos diapers.