This is a Sponsored post written by me on behalf of ZzzQuil for SocialSpark. All opinions are 100% mine.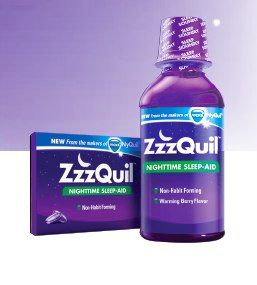 Recenly I had the opportunity to try out ZzzQuil, an over-the-counter sleep aid made by the makers of Vicks NyQuil. If your life is anything like mine, with so many stresses and worries, you know there are times that one simply can not get to sleep. Usually I am pretty hesitant about any sleep aid and I normally don't even try them out because I worry about how strong they might be. Will I be able to wake up on time the next day? If the phone rings with an emergency during the night, will I be able to wake up and get it?
Recently my boyfriend left to Mexico to work for a few months and right after he left I found myself tossing and turning, night after night. It ended up being the perfect time to try our ZzzQuil. I only took it a few nights and I did notice that it's effects are not overly strong at all. I had an easier time falling asleep and I was able to stay asleep, which almost never happens. Then in the morning I was able to wake up on time and actually felt more re-energized because I had finally rested.
I was comfortable trying ZzzQuil because I already trust the Vicks brand and because it clearly states on the label that it is non-habit forming. So as long as you follow the dosing instructions, the products active ingredient diphenhydramine HCl will help reduce the time it takes for you to fall asleep. ZzzQuil is the only over-the-counter sleep available in liquid and LiquiCap forms. This product is only intented for those 12 and over and dosing instructions must be followed.
Sleep really is a beautiful thing, and if you are having thouble falling asleep, you should give ZzzQuil a try. Head on over to FB and like ZzzQuil page for more info about the product and updates. If you have tried ZzzQuil, share your experience on Twitter by using the hashtag #ZzzQuilNight.