Are you soft or strong?
Sometimes it can be hard to balance between being strong or being soft with my girls, and it's a constant battle that I am always fighting with myself. Should I be strong and hold my ground, or should I let them do something they really want to do, that I would rather they didn't. My girls are older now, so it's definitely not as easy as it used to be when they were little, but as a parent its my job to guide them to make the best decisions and not actually make them for them.
But even while they are older I still have to be soft a lot of the times, especially since I am the only parent that my girls can come to when something is wrong. I have always said I don't want to be like my mom, who was the strong lady, the one who never showed any softness or much caring towards us. She thought she was doing the right thing, by always standing strong and not showing emotion, but we, her children, would have much rather preferred a nice mom instead of the mean woman she always was. That is why I struggle and a lot of the times and will give in and be a nice-soft mom instead of the strong-stern mom.
Life is pretty much the same, there are times when we have to be strong and there are many moments when we have to be soft. I remember a few times that I wanted and knew I deserved a raise at work, I had to be super strong and not only request a raise but fight for it, when it wasn't readily given. There was also my divorce, which was very hard on my kids, I had to stop being mommy and had to become a mother, and the parent who would from then on be responsible for my kids. I think this happens a lot to women, and it's a good thing we were made so strong that we are able to cope with all this, get a full time job and still be a good parent.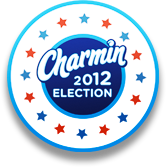 Charmin Ultra Soft or Charmin Ultra Strong which do you prefer?
Make your vote count and visit the Charmin 2012 Election page on Facebook.
Though I value the softness, with three young children I prefer and purchase Charmin Ultra Strong's enhanced DiamondWeave™ texture delivers a clean you will notice, with the softness you expect from Charmin. The strength of this tp really stands up to even the biggest messes.
"I was compensated for this blog p
ost as part of the SocialMoms and Charmin blogging program. The opinions and ideas expressed here are my own. For more blog posts on this topic, click here."