Every year our family and friends get together to celebrate new years eve together, and this year guess who's name was drawn to host the big event? Moi!
What we do to make it really fun is throw everyone's name into a hat during our Halloween party and before the evening is over, draw the name of theun lucky host. I am freaking out a bit because this is going to be a big party, with over 75 people and about a zillion kids, so most def it's not going to be held in our tiny little house. The good thing is that my aunt has a huge house that will be perfect for the event. Now we just have to get to planning the decorations, food and music. Yes, it's a lot of fun but it's also very stressful, that's why we pick the name so early so that the host can have plenty of time to plan an event that will be amazing.
So today I have been brainstorming and surfing around Pinterest, looking at table setting and decorations. I really love this table setting and am really thinking formal is going to be the way to go. Last year we all celebrated in Tijuana Mexico and it was a bit more relaxed, that's why I am thinking a switch to formal this year will be nice.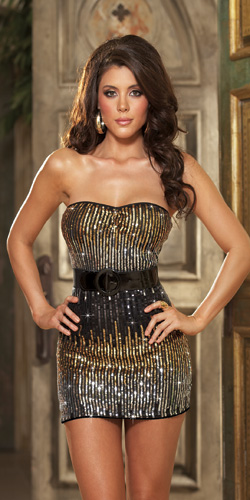 I already have the perfect dress, how cool is it that it's
going to match the decor? These nails are perfect too!
So today I am going to start writing up my to-do-list. I am going to concentrate on food and of course drinks (above looks great right?). Then I can move on to the decor and the wardrobe. Less than two months to throw the perfect new years eve party? Can I do it???
We shall see!!