Summer is here and what better time to get the entire family and get away, we actually have a lot of family that left California and now live in Virginia Beach and we would love to come and visit them some time in the very near future. From what my cousins tell me, life is good in Virginia Beach and I found some really neat things that we can do there that the kids would just love. So my Ten Reasons To Visit Virginia Beach are;
1. A family reunion! It's been at least six years since my cousin moved to Virginia Beach and since then we have only seen them one time. It would be great to get all the kids together, now that they are all older so they could reconnect and spend some nice family time together.
2. Hang out at the beach! I have heard alot about Virginia Beach and how it rivals out California beaches so it would be amazing to be able to go to the beach all the way across the country. The kids love the water and we have always been a beach family so the beach is a must stop for us.
3. Visit the parks! Virginia Beach is has more than 4000 acres of parks, including playgrounds and green natural areas for exploring and hiking.
4. Fishing! BF would love to get some fishing in during the visit, being from Ensenada Mexico, fishing has always been one of his pastimes and Virginia Beach has a bounty of fishing destinations that I am sure he would enjoy.
5. Visit the Boardwalk! The teens would love to visit the Boardwalk and could probably spend an entire day there hanging out with other kids their age and eating junk food.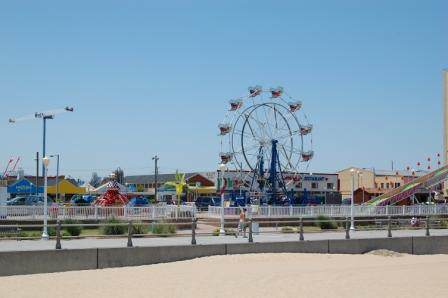 6. Shopping at Lynnhaven Mall which is one of the largest malls on the East Coast. Having teen girls a visit to the mall is an absolute must on any trip.
7. Hang out and listen to music at Beach Street Usa which is on
Atlantic Avenue between 17th & 25th Streets. This sounds like a fun place to hang with out without the kids because everyone love music!
8. Visit the
Virginia Aquarium, the little ones love aquariums and that way they can see all the fish life that can be found in the area. This is also an easy way to sneak in some educational time!
9. See what's playing at the Sandler Center for the Performing Arts and sneak in some culture too. We could watch Fiddler on The Roof or even Abba who will be playing there on July 30th.
10. For a last bit of education a visit to the Contemporary Art Center of Virginia would be great fun for the kids and the adults. They have events for everyone and classes available in case someone in your family really wants to dip their hand in some art while in Virginia Beach.
So many reasons to visit and all of them so much fun. I love that there are so many educational things to do as well as a lot of just hanging out and having fun. It seems to me that Virginia Beach really has everything that would make a perfect family vacation. Have you ever visited Virginia Beach??
"I wrote this blog post while participating in the SocialMoms and Virginia Beach Tourism blogging program, for a gift card worth $40. For more information on how you can participate,
click here
.