The Real Housewives of Orange County : Love the OC ladies, and I especially love how they are all suddenly broke and need cash. It's not that I want to see people be miserable but it's good to see that the recession didn't affect just us regular people. It was also comforting to see some a few of them get of their bums and have to go to work.
The Real Housewives on New York : The NY ladies are all pretty nutty so they make for a very funny show. It's really nice and mind numbing to sit and watch them be so wacko, seriously they make us look like we are normal. This is the pic of the original cast which were my two favorite seasons.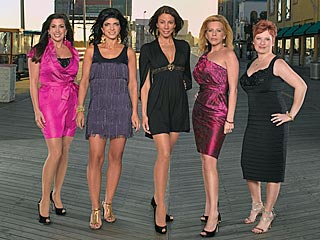 The Real Housewives of New Jersey : I never thought I would like these ladies but I do. They are so brash and tacky and loud and I like that they never pretend to be who they are not. They are very real to me and in fact sometimes I think they are a little too real, and I have to cringe at some of the amazingly trashy stuff they do. Dina and Danielle are no longer on the show and I do miss Danielle because really she added most of the entertainment.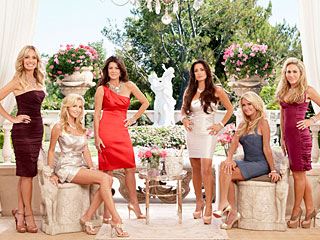 The Real Housewives of Beverly Hills: These ladies are LOADED, but even with all that cash some of them are so insecure that it's crazy. They really prove that money can't buy you class, brains or self esteem but it sure can buy you a lot of plastic surgery. I do have to say I love them though and can't wait to see the new season :)
Photos: BravoTV.com