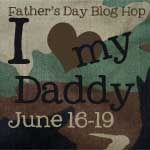 So sorry about the delay, I prepared this post a few weeks back and thought it would be posting automatic, today instead of going live, it went awol.
Welcome to the I Love My Daddy event!
We only have one sponsor for this great event, but it's a really good one. Get a bottle of perfume for yourself or a cologne for him!
We want to thank Michele from Miki's Hope for sponsoring this for us, please visit The Perfume Spot and her blog, where you can find many of her other favorite products, all at great prices!
:::::: MANDATORY ENTRIES ::::::
Visit The Perfume Spot and tell us what you will buy if you win!!!
BONUS BONUS (4 entries)
Tweet Daily: I Love My Daddy Event: Enter to Win $50 The Perfume Spot (Get some perfume for your or a cologne for Dad)~! http://t.co/ZHisFqU (4 entries)
That's it, good luck to all. Winner will be announced at the end of the hop, US only entries please. Don't forget to visit all the other blogs and enter to win more great prizes!