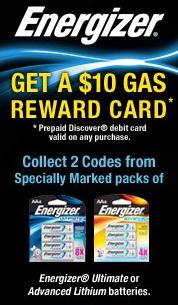 Summer travel season is in full swing and the ever changing cost of gas prices is impacting everyone. To help with the big summer shuffle between activities for your kids and family road trips, Energizer has a deal to help make a positive impact on your gas budget so you can be ready to hit the open road with a little more cash in your pocket.
Simply purchase two packs of specially-marked Energizer® Ultimate Lithium or Energizer® Advanced

Lithium

batteries and you will get a $10 Prepaid Discover® Gas Rewards* card mailed to you.

It's that easy

. Really...just follow the steps below!
1.

Visit www.facebook.com/energizer
2.

Click on tab for the Lithium Gas Reward and follow the instructions
to input your battery pack codes.
3.

A $10 Prepaid Discover® Gas Rewards card

will then be mailed
to you from the fulfillment company.
4.

The last day to redeem codes is 1/31/12 at 11:59 p.m. ET

.
About
Energizer®
Lithium
Batteries:
Lightweight and perform well in extreme temperatures, from -40° F to 140° F (-40° C to 60° C).
Energizer
®
Ultimate Lithium
batteries last up to 8x longer in digital cameras for up to 8X less waste.
Energizer
®
Advanced Lithium
batteries last up to 4x longer in digital cameras, 20 hours longer** in wireless gaming accessories and up to 30% longer in personal audio devices.
We want to thank Energizer for this great giveaway...and for being so thoughtful especially during such tough economical times. Please read below so you can find out how you can enter to win your own $10 Gas Rewards Card, or if you already use Energizer Lithium batteries don't forget to grab two packs and use the codes to get your free card.
One winner will win:
Two packs of batteries marked with special codes so they can get their own $10 Gas Reward Card. Winner can also select between AA and AAA batteries.
What road trip would you love to take and use your gas card for? (1)
Follow Sammy Makes Six on GFC (1)
Sign up for our feed via email, make sure to confirm. (2)
Follow our second blog on GFC

HERE

(1)
Vote Daily
on Picket Fence Blogs (left had side, click the banner) (1)
Post on your blog about this giveaway and give us the link (5)
Enter any of our other giveaways (1 per giveaway)
Sponsor provided items for giveaway, we were not comp
ensated in anyway. Our opinions are 100% our own.
Giveaway starts June 20th and ends July 11th at 11:59 PST
. Winner will be chosen by Random.org. Giveaway is applicable in the US.