I [Jackblack] am completely in love with Glee! Spend at least ten minutes with me and the word Glee is bound to make at least one appearance. I swear, and if you ask my sisters or mum, they will tell you that I have an illness and am I showing little to no signs of a being cured. Yup! I am that in love with it! Do you wanna know why? Too bad if you don't because I am telling you anyway, this show is FREAKING AWESOME!!!
The cast is pretty damn incredible! Jane Lynch, as the evil vindictive Coach Sue Sylvester, is FREAKING PURE GENIUS! She can out act anyone as a track suit loving, cheer leading coach any day! Matthew Morrison from Broadway's Hairspray portrays the good-natured yet completely naive Spanish teacher Will Shuester, who decides to revive the Glee club. Enter our driven, admitably high maintenance, young ingénue Rachel Berry brought to life by Broadway's very own Lea Michele. She is bossy, conceited, and tends to be a huge no-it-all but Rachel's voice tends to compensate for her every fault. Not to mention the rest of the defiantly quirky and colorful characters. Like bitchy Cheerios (cheerleaders), gay sopranos, dumb blondes, jocks, womanizers, goth's, even wheel chair bound singers. Yup it has it all!
But undoubtedly the best part of the show for me is the soundtrack, the show takes some of the oldest classics and revives them for today's generation. I have every single song they have recorded on my lap top, my MP3 player and most of all IN MY HEAD!
Its Thursday and that means it's time to make new friends and time
to find some FAB new blogs.You will find us Blog Hopin' @
Thursday's Friends and Giveaways hosted by
Menopausal New Mom

.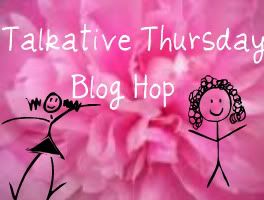 This is a new blog hop for us, looks like its going to be a great one too ;)
Talkative Thursday's is hosted by

Mommy of One

.